Update on the Shipping Container to Burundi - 2021
Recently, a shipping container full of hospital beds, medical supplies, solar panels, and other essential items arrived at the Ubuntu Clinique in Cibitoke.
Organizing this was a huge project and was only possible through the generous support of many people in Canada. Since the container's departure from Winnipeg, it went through a mostly smooth process at each checkpoint and cleared customs office with the only tricky part being getting into the Clinique site with the conditions of the roads and tight turns. Community members all joined together to help the process of unloading the heavy equipment by hand (each hospital bed weighs approximately 375 lbs).
Upon arrival of the container, there was a celebration in the community and Jackson shared the following statement by one individual who spoke a prayer at the event;
"We are thankful that people are supporting us to help our development move on. It is rare to have a project like this without accidents. The container came across oceans and roads, without dents or injuries. The truck and trailer moved safely without catching wires. We believe this is happening for a reason. When what you are doing is genuine, God opens the way."
Jackson told us that this container has arrived just in time as the Clinique has run out of necessary supplies such as medical gloves.
Solar Panels – A move toward reliable and sustainable energy
Even during our virtual meeting with Jackson to compose this update, he experienced an intermittent wifi signal due to the power cutting out. They often experience long stretches without any power at all. Unreliable electricity has posed many challenges for Ubuntu Clinique when they cannot operate hospital equipment. Jackson shared with us that even when there is hydro electric power, there are often surges that can damage machines or blast light bulbs.
Thanks to a generous donation from Frank and Agnes DeFehr to cover 276 solar panels, matching batteries, and a significant portion of shipping for the container that just arrived at Ubuntu, the team will be able to provide a consistent source of electricity for the Clinique.
Jackson shared his passion for equipping the Clinique with solar panels;
"These are a huge investment, sent with a lot of trust that they will be used well. We really needed them and they can last a long time if we manage them well. They will not only provide energy to work well, but they fall within my vision of being environmentally friendly. We want to use our natural resources well to be sustainable. It aligns with our goal of being totally renewable in what we do! This is how we dream of our community to be. We want to be good shepherds for the creation that God has made. Solar energy is complementary to the way we want to build our community."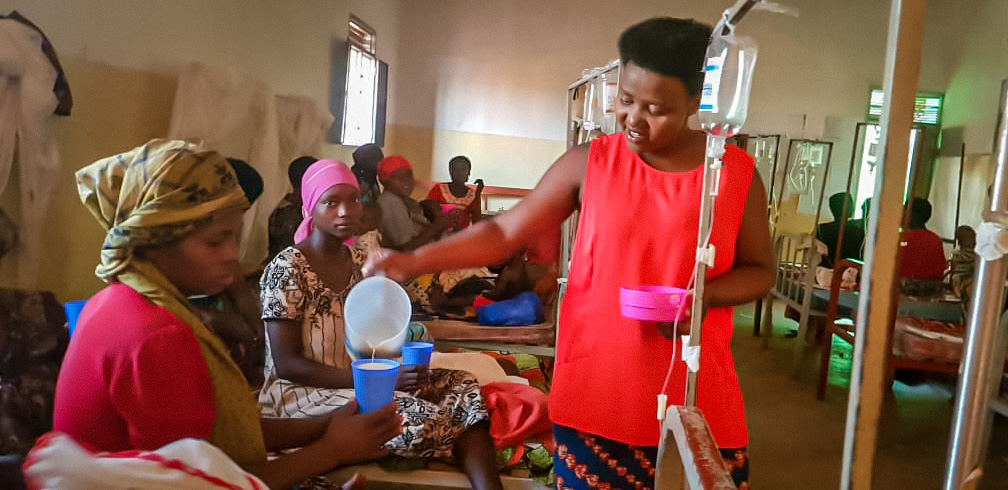 Mama Ubuntu Feeds Hungry Patients
In Burundi, people don't believe that Canadians are fed when they go to a hospital. This service of care is something that many of us take for granted but is a constant source of concern for Burundians seeking medical care, where it is up to family members to feed their relatives in hospital. It is difficult to imagine the added stress of trying to figure out how to find a meal while enduring serious health concerns. Jackson has said many go hungry and have even died because there was no one to feed them.
Aceline (now often referred to as Mama Ubuntu) has chosen to respond to this need by creating a porridge program. Her goal is to feed needy people two meals each day while they are receiving health care at the Clinique. The question remained of how to provide the food that so many patients desperately need?
Jackson told us that the issue of hunger really resonates with him as he knows what it is like to experience hunger. While most of his formal training is in health care, he finds that farming occupies his heart. The two passions are deeply connected as he has realized that many of his patients need proper nutrition to support their healing while in hospital. He has tried to increase his farming efforts to help provide food for Mama Ubuntu's porridge program. A major blessing came in the form of 2 hectares of flooded land that the government gave permission to be used as rice paddies. With this land they are expecting to harvest 15 tons of rice this summer.
Jackson and Aceline envision a future where people have enough to eat and their diseases are able to be treated. They are working and living in a system with so many gaps. They are striving to focus on holistic healing where people's immediate needs are met sustainably as they work to fill these gaps.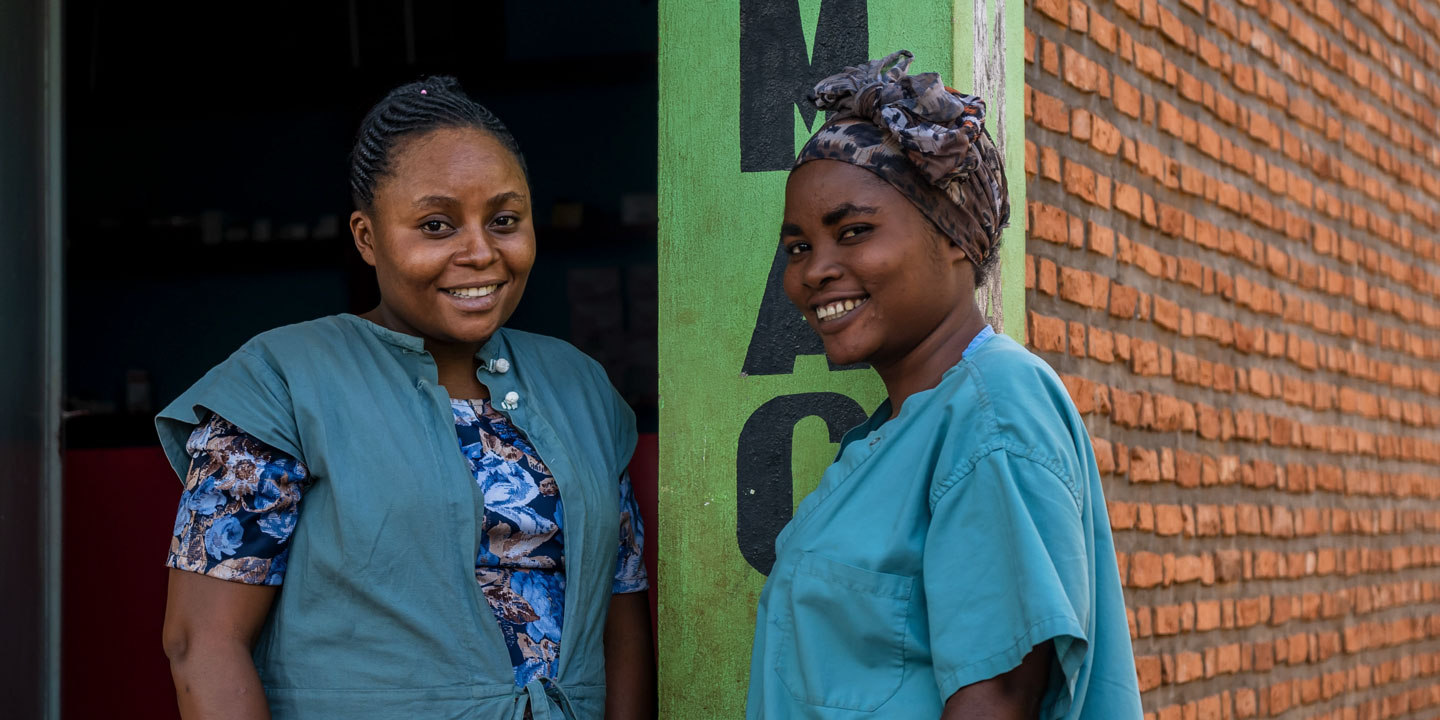 Thank you all for your support!
Both small and large gifts have really helped, and we are grateful to have such a supportive community.
1Donate online
Credit card or Paypal donations can be made through the Canada Helps website, either one time or monthly.
For bank-to-bank transfers, simply send an e‑transfer to donate@ubuntuclinique.com
If this is your first time donating, please help us by emailing your full contact information for the tax receipt, either in the message box or by a separate email. That includes your name, mailing address, and email address (we prefer to send your receipt by email to reduce costs).
2For cheque donations, please write "Ubuntu Clinique" in the memo field and address the cheque to:
ADW - Ubuntu Clinique
181 Canora Street, Winnipeg, MB R3G 1T1
3For monthly donations using either pre-authorized debit or postdated cheques, you can print and complete the Pledge Form (PDF) and mail to:
ADW - Ubuntu Clinique
181 Canora Street, Winnipeg, MB R3G 1T1
For Canadian donations, we can offer tax receipts for $20 and over.